I am doing that little bloggy thing again this Sunday and linking up with the Sunday Social.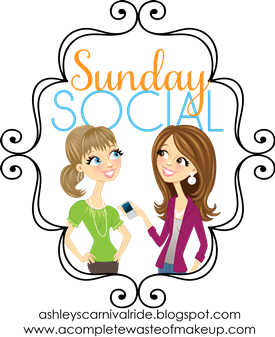 1. Do you plan to change any of your eating habits in the new year?
Not really since this was a big one two years ago and I have done a good job sticking to it!
2. Any workout tips to get us back in shape after the Holidays?
Set yourself a goal! When I wanted to lose 40 pounds I set myself a goal to run a 5k then I registered for the race. I have never run more than a mile in my life and that was in grade school. At that point I couldn't run to the end of the block so I signed up for that race then started training and guess what? I did it! I ran my race, lost that 40 pounds, and kept it off. If I can do it, so can you!
3. What is your favorite thing you did over the Holidays?
I am very hard pressed to pick one thing since we did so many fun things! So I am going to take a cop out and say my favorite thing was all the time I spent with my family. We were all on vacation together for 17 days and it was amazing!
4. What is something you hope that you accomplish in 2013 that you did not in 2012?
Good question! I really wanted to put together a budget and stick with it but I never was able to get it done. That is one thing I will be doing this year. Not only having one but reviewing it weekly. I will plan time into my weekends to review and assess. I hope this is a new way of life for me!
5. Name 3 things happening this year you are excited about and why.
Oh, boy! First, I am excited about our up coming trip to Maui in March. That will be a blast! Second, would be really getting into my new job at work. I have had the job for a few months now but I feel like I am now ready to really jump in and figure it all out. And finally, I am excited about watching Heidi and Cupcake grow up. Heidi will be 8 this year. She is such a fun kid, I always look forward to spending time with her. And Cupcake is such a good puppy, I can only imagine her as a 1 year old dog!
Thanks for stopping by, I hope you learned a bit about me!
Hugs!
Kara